July 01, 2011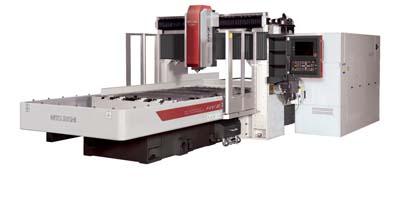 MC Machinery Systems Inc. has introduced its newest series of 2D hybrid laser processing machines. The new line builds on the success of the HV series, offering easier setup, expanded processing area, enhanced productivity and improved operability and maintenance.
A new M700 series control comes with a 15-inch, color, touch-screen display for better visual recognition and operability. The unit also delivers faster graphics and a USB port for faster data transfer. A complete database of processing conditions makes operations more efficient.
The HVII series utilizes Mitsubishi's unique resonator technology and is available in 2, 3 or 4 kW. Travel in the Z-axis is two times faster than previous models, cutting part-to-part transition time in half. Larger stroke in the Z-axis allows pre-formed parts to be loaded and cut.
The HVII provides simplified maintenance procedures. The self-check function monitors the replacement cycle of consumable parts and maintains the condition of the laser machine at its peak performance. The system regularly collects the operating data from the processing machine and resonator preventing unexpected down time due to damage to the parts.
Other machine highlights include an attached tool storage center; a fine-pierce option; a diminished clamp dead zone for an increase in parts production and quality; lens failure protection; jet piercing; and end-joint processing.
Related Glossary Terms
Vickers hardness number ( HV)


Vickers hardness number ( HV)

Number related to the applied load and surface area of the permanent impression made by a square-based pyramidal diamond indenter having included face angles of 136º. The Vickers hardness number is a ratio of the applied load in kgf, multiplied by 1.8544, and divided by the length of diagonal squared.