August 14, 2019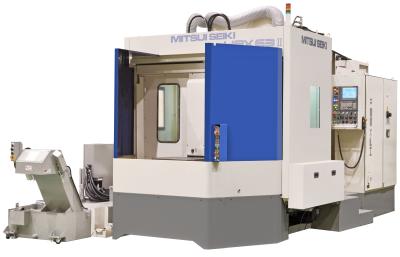 Mitsui Seiki's HPX63 II 4-axis horizontal machining center, an improved version of the company's proven HPX63 unit, features a 70% faster rapid feed rate of 54 m/min. that produces shorter cycle times and a 14% percent reduction in shop floor footprint (now 5,554mm x 3,530mm) to maximize manufacturing facility space.
Capable of machining workpieces as large as 1,050mm in diameter x 1,050 mm hight, the HPX63 II machining center is engineered to process medium-size precision parts. Pallet size is 630mm square and maximum table load is 1,200 kg. Positioning accuracy and repeatability are +/-0.001 mm (one micron).
X-, Y-, and Z-axis strokes are 1,000mm, 800mm and 900mm, respectively. An 18.5/15 kW (30 min./continuous) spindle utilizes ISO 7/24 50-taper tooling and provides rotation speeds from 15 rpm to 6,000 rpm, as well as 600 Nm maximum torque. The B-axis rotary table offers high torque and acceleration.
A 60-pocket automatic toolchanger accommodates tools up to 500mm long and 125mm in diameter (265mm diameter without adjacent tools), weighing up to 25 kg.
"The HPX63 II represents the latest evolution of our company's series of 630mm-pallet horizontal machining centers," said Tom Dolan, Mitsui Seiki vice president of sales and marketing, "Its improved performance and convenience illustrate the continuing efforts of Mitsui Seiki to help our customers increase their efficiency and competitiveness."