September 13, 2018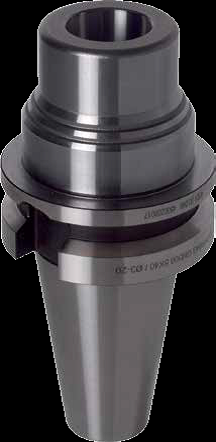 Guhring's precision clamping chucks offer extremely high clamping forces while maintaining extremely tight
concentricity tolerances, making it an ideal solution for milling operations, as well as drilling and reaming
applications. It excels in both heavy-duty and high-speed machining applications.
The special clamping sleeve is clamped via a worm gear, which transfers the optimal clamping force onto the tool shank. This creates clamping forces of greater than 200 Nm for 12 mm shank diameters and greater than 300 Nm for 16 mm shank diameters.
This system offers the following advantages:
• increased cutting depths in comparison to conventional toolholders
• increased radial engagement and subsequently higher material-removal rate
• maintenance-free technology
• suitable for use with both round shanks and flatted shanks
• concentricity 3 μm with 2,5 x D
• balancing quality: G2.5 / 20.000 rev./min or U< 1.2gmm
Related Glossary Terms
gang cutting ( milling)


gang cutting ( milling)

Machining with several cutters mounted on a single arbor, generally for simultaneous cutting.

milling


milling

Machining operation in which metal or other material is removed by applying power to a rotating cutter. In vertical milling, the cutting tool is mounted vertically on the spindle. In horizontal milling, the cutting tool is mounted horizontally, either directly on the spindle or on an arbor. Horizontal milling is further broken down into conventional milling, where the cutter rotates opposite the direction of feed, or "up" into the workpiece; and climb milling, where the cutter rotates in the direction of feed, or "down" into the workpiece. Milling operations include plane or surface milling, endmilling, facemilling, angle milling, form milling and profiling.

shank


shank

Main body of a tool; the portion of a drill or similar end-held tool that fits into a collet, chuck or similar mounting device.
Additional Products from Guhring Inc.