April 27, 2016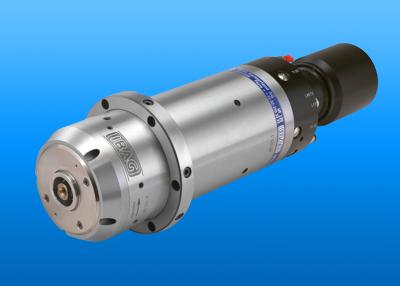 IBAG North America offers the HF 120.4 high-speed spindle for Haas and other leading machining centers, delivering up to 42,000 rpm, 16kW and equipped for HSK40 and BT30 Tooling. The HF 120 is ideal for production manufacturing in aerospace, medical, mold and die machining and can be used in hardened steels, aluminum, brass, copper, graphite and various plastics.
This high-speed spindle can be installed into new and existing Haas 40-taper vertical and horizontal machining centers and offers full ATC integration for HSK or BT tooling. Standard options include oil-mist bearing lubrication, grease packed bearing lubrication, 1,000-psi coolant through the spindle, tapping and orientation. Installation package requires no permanent modification of machine.
Related Glossary Terms
centers


centers

Cone-shaped pins that support a workpiece by one or two ends during machining. The centers fit into holes drilled in the workpiece ends. Centers that turn with the workpiece are called "live" centers; those that do not are called "dead" centers.

coolant


coolant

Fluid that reduces temperature buildup at the tool/workpiece interface during machining. Normally takes the form of a liquid such as soluble or chemical mixtures (semisynthetic, synthetic) but can be pressurized air or other gas. Because of water's ability to absorb great quantities of heat, it is widely used as a coolant and vehicle for various cutting compounds, with the water-to-compound ratio varying with the machining task. See cutting fluid; semisynthetic cutting fluid; soluble-oil cutting fluid; synthetic cutting fluid.

tapping


tapping

Machining operation in which a tap, with teeth on its periphery, cuts internal threads in a predrilled hole having a smaller diameter than the tap diameter. Threads are formed by a combined rotary and axial-relative motion between tap and workpiece. See tap.