April 06, 2022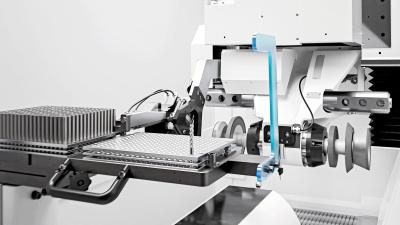 WALTER will introduce the latest addition to their comprehensive machine lineup at the GrindingHub 2022 exhibition: the compact HELITRONIC G 200 tool gringing machine. GrindingHub 2022 runs from May 17 – 20, 2022 in Stuttgart, Germany, and WALTER will be exhibitng in hall 9, booth A50. The latest HELITRONIC will also make its North American debut at IMTS 2022.
In a floor space of less than 2.3 sqaure meters (24.8 square feet), the cost-efficient HELITRONIC G 200 offers tool grinding at its best. Grinding and re-sharpening of rotationally symmetrical cutting tools ranging from 1 to 125mm (0.039" to 4.92") in diameter with a grinding wheel up to 150mm (5.91") is possible. The HELITRONIC G 200 can accommodate a maximum tool length of 235mm (9.25") and a tool weight of up to 12 kg (26.45 lbs).
Designed for ease-of-use and reliability
The ergonomic design integrates a swivelling multifunction touch panel with a 21.5" monitor, facilitating easy operation and accessibility to the working area. A low-vibration solid mineral cast bed and C-frame construction offers high damping capabilities and thermal stability resulting in maximum grinding precision. The linear axes X, Y, Z are built according to the high WALTER quality standard. The rotating A and C axes are equipped with torque motors and provide an unprecedented lifetime with minimum service effort.
The HELITRONIC G 200 uses the gloablly proven HELITRONIC TOOL STUDIO grinding software from WALTER, which provides ease of programming with the greatest possible flexibility.
Automation ready
For maximum productivity, a loading system is available: the "Top Loader" is directly integrated into the work envelope of the machine for easy access and therefore requires no additional floor space. Suitable for tools from 3 mm to 16 mm (0.118" to 0.63") in diameter, the maximum tool capacity of the loading system up 500 tools for tools with a 3 mm (0.118") diameter. The Top Loader uses WALTER-standard robot pallets and automated electrical teaching.
Related Glossary Terms
grinding


grinding

Machining operation in which material is removed from the workpiece by a powered abrasive wheel, stone, belt, paste, sheet, compound, slurry, etc. Takes various forms: surface grinding (creates flat and/or squared surfaces); cylindrical grinding (for external cylindrical and tapered shapes, fillets, undercuts, etc.); centerless grinding; chamfering; thread and form grinding; tool and cutter grinding; offhand grinding; lapping and polishing (grinding with extremely fine grits to create ultrasmooth surfaces); honing; and disc grinding.

grinding wheel


grinding wheel

Wheel formed from abrasive material mixed in a suitable matrix. Takes a variety of shapes but falls into two basic categories: one that cuts on its periphery, as in reciprocating grinding, and one that cuts on its side or face, as in tool and cutter grinding.

work envelope


work envelope

Cube, sphere, cylinder or other physical space within which the cutting tool is capable of reaching.