March 01, 2011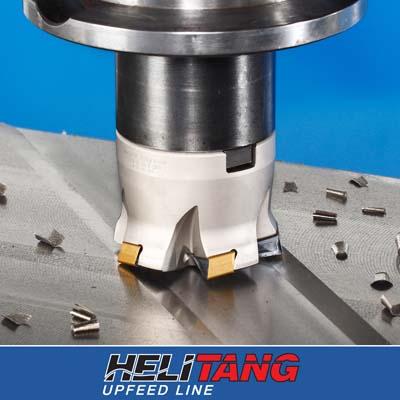 A new high-feed milling cutter extends the benefits of ISCAR's HELITANG UPFEED tangential milling cutters to ramping work as well. This Feed Mill has outstanding track record on Titanium and Stainless Steel Milling, according to the company.
In tangential milling, the insert lies flat in the pitch circle, presenting its strongest cross section to the main cutting force vector. This permits much faster feeds and deeper cuts without risk of sudden insert failure. It also enables stronger cutters and finer pitch in a given-size cutter. The practice was originated mainly for heavy rough machining and for unstable conditions on flat work only.
Key to the new ramping capability is the new ISCAR FTP insert. The geometry is modified just enough to allow ramping while retaining the proven high-feed capability of the TANGMILL line. It features the familiar double sides with four peripheral ground cutting edges plus a shallow 12.5 degree entering angle. In the cutter it fits rigidly into a standard tangential seat with dovetailed clamping. Inserts come with a choice of other edge geometries for standard work or ETR geometry for heavier, higher feed applications.
Additional Products from Iscar USA