January 13, 2013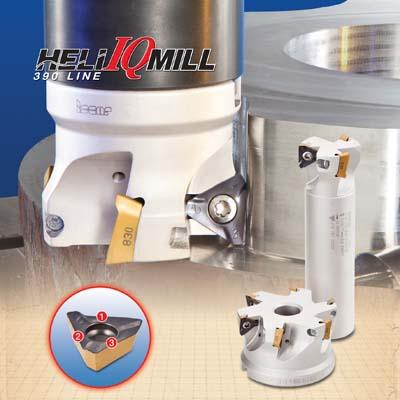 ISCAR introduces the ISCAR HELIQMILL 390 line, a new step of development of the insert with helical cutting edge.
The "classical" HELIMILL insert and its further derivatives have two cutting edges. The new line offers a triangular insert with three cutting edges, one extra. Interestingly, the length of the cutting edge of an insert with three edges is the same as in an insert with two: the new inserts are available with 10 and 15mm cutting edge lengths. The insert with three edges has a stronger structure and its clamping into the pocket features high rigidity. The advanced cutting geometry of the new insert results in a precise 90 degree shoulder and a wiper flat provides excellent surface finish. The HELIQMILL 390 tools have impressive ramping-down abilities.
The new line incorporates all the advantages of HELIMILL. However, in ISCAR's new HELIQMILL 390 line, the added advantages of an extra cutting edge, extra-strong design, extra reliability and extra accuracy lead to extra performance. This provides productive milling of true 90 degrees in combination with an improved cost per cutting edge.
The HELIQMILL 390 inserts are produced from ISCAR's innovative SUMO TEC carbide grades, which contribute largely to increasing productivity.
The new tools are intended for machining shoulders, slots and planes. In addition, they can be a good choice in milling surfaces, ramping-down or helical interpolation such as pockets or cavities. The tools are available as endmills with shanks and face mills with a central bore.
Additional Products from Iscar USA