March 01, 2011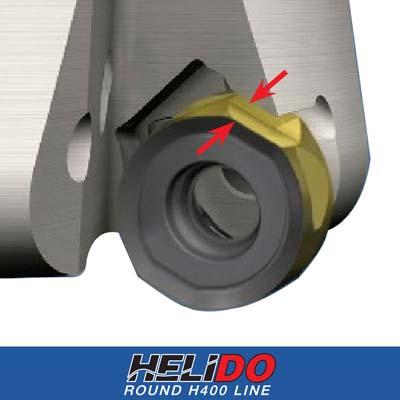 ISCAR has expanded its popular line of HELIDO ROUND H400 fine-pitch mills to improve profile machining and ramping over a wider range of applications. Included now are 10 and 16mm inserts, to complement the original 12mm insert. Matching cutters cover the 1.0" & 1.25" diameters for endmills and 1.5" to 4" for facemills.
Unlike true rounds, HELIDO 400 ROUND inserts have a periphery that consists of bounding arcs with radii that would be found on pure rounds twice their size. Each insert has four 120 degree arcs. This enables the cutters to have more flutes compared to existing standards resulting in higher feed capability.
The inserts are double sided, with helical cutting edges for gentler entry plus top-face geometry to create 10 degree positive-rake inclination. They feature ISCAR's innovative SUMO TEC post-coating treatment that improves performance 35 percent on average. Each insert provides four 120 degree arcs.
Dovetail clamping design in the cutter helps to direct forces to the body thus relieving clamping screw of the impact loads. The unique HELIDO 400 ROUND insert shape creates four fixed indexing positions per side and firmer no-twist seating able to withstand high cutting forces. Fixed indexing positions also ensure that all four edges are used, and eliminate the uncertainties that lead to discarding of rounds which still have good edges.
Related Glossary Terms
Additional Products from Iscar USA