January 01, 2014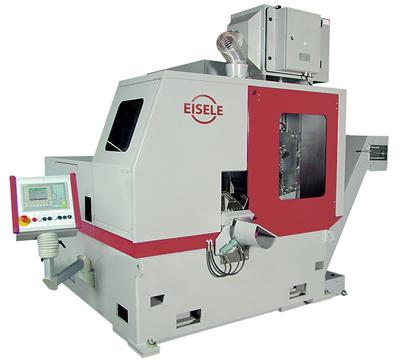 Behringer has introduced the HCS-180 high-performance automatic carbide circular cold saw for cutting of ferrous material at 90 degrees. The new saw is ideal for cutting high-alloyed heat resistant steels along with other ferrous materials. With a blade diameter ranging from 16.5" (419mm) to 20.5" (520mm), the new HCS-180 saw provides fast, precision cutting of round stock up to 7" (180mm) in diameter.
A fully automatic high-performance circular cold saw, the HCS-180 is designed for maximum yield applications. The saw is equipped with a PLC-controller which permits programming the number of pieces to be cut, length, discharge handling and other parameters. Also included are two non-contact light barriers which detect the leading and tail edge of the material being cut and then send start and end data to the PLC.
The Behringer machine uses long lasting carbide-tipped disposable saw blades. A 34.8 HP frequency controlled blade drive enables blade speeds of 20 to 250 RPM which accommodates most wet or dry sawing applications. Behringer's robust machine design helps assure long blade life. Vibration absorbers mounted between the machine base and the sawing unit further enhance long blade life by eliminating vibrations which also produces exceptional cut quality. Blade life is further extended by sensor-driven cutting pressure monitoring with worn saw blade interrupt feature.
The NC controlled sawing head with ball-screw spindle is driven by a servomotor with integrated encoder for precision movement. The head is mounted on pre-tensioned linear ways angled at 25 degrees to ensure quality cuts. Pressure-balanced, controlled blade movement helps maintain consistent production rates and improves cutting accuracy on both solid and tubular material. There is also an automatic material retract feature on the input side, and an automatic material release on the output side. This protects the carbide blade when the saw head returns to its "Home" position after completing a cut.
The gripper feed unit is powered by a servo-driven ball screw spindle. This provides an infinitely variable feed or reverse feed rate of up to 39.3" per second. Single stroke capacity is 0.314" to 39.3" and multiple stroke is up to 393.6" (32.8'). To assure optimum alignment of material entering the gripper clamping area, Behringer can add a material shifting device to the gripper feed unit. This option facilitates smooth handling of material to help prevent marking or scratching and is recommended for high volume jobs.
The HCS-180 features a pneumatically controlled micro-spraying cooling system which continually mists the carbide blade to prevent heat build up. Optional on the HCS-180 is a multi-fluid cooling system which provides additional protection against heat build up. The multi-fluid cooling option allows for extremely fast cutting operations or for duplex materials.
Behringer HCS saws feature a cutting stage designed to direct chips directly into an automatic chip conveyor. The chip conveyor is integrated with the coolant reservoir and coolant pump to permit rapid disposal of both chips and coolant. The conveyor is readily removable for ease of cleaning. The robust Behringer saw frame design reduces vibrations and enhances torsion resistance during cutting. This feature, coupled with an active chip cleaning system, improves saw blade life.