February 12, 2012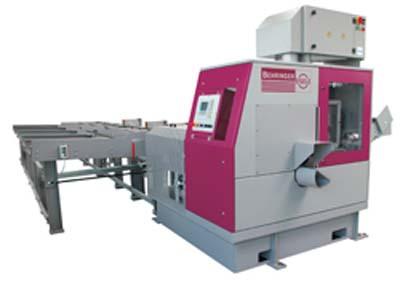 Behringer has introduced the new HCS 150/160 MF saw, a high-performance carbide circular cold saw that uses multi-fluid cooling technology to prevent heat transfer to product during mass cutting applications.
Unlike misting systems, the HCS 150/160 MF saw's innovative flood coolant system facilitates increased throughput by enabling rapid cutting over longer periods of time with fewer interruptions due to heat build-up. A vortex air blowing system further enhances cutting temperature control to help maintain consistent production rates. The Vortex system is also particularly valuable to customers who have cutting applications that require the material to stay free of liquid.
Said Richard Klipp, Behringer president, "The continuous cooling nature of the multi-fluid flood system permits a greater level of unattended operation because operators don't need to worry about heat build-up. Fast, uninterrupted cutting improves throughput and the worker saves valuable time which can be devoted to other priorities." Klipp also said that flood cooling simplifies setup since a source of compressed air is not required.
A fully automatic high-performance circular saw, the new HCS 150/160 is designed for maximum yield applications. However, the saw may also be readily integrated with downstream production processes to let operators address production-specific tasks. This built-in flexibility enables rapid adaptation to continually changing customer demands. For example, wide-ranging and different infeed/discharge systems and link-ups to magazines and storage systems equip shops to create more dynamic production flows instead of having to follow rigid night and day shift work modes.
Improved cutting rates are also facilitated with controlled disposal and maintenance of cutting fluids, and the removal of chips. The chip conveyor is integrated with the coolant reservoir and coolant pump to permit rapid disposal of both chips and coolant. The conveyor is readily removable for ease of cleaning.
The new saw is ideal for cutting high-alloyed heat resistant steels. Configured for workpiece diameters of up to 160mm, the HCS 150/160 MF features a wide speed range of 20 to 250 rpm to accommodate most wet or dry sawing applications. The robust, rigid design of the HCS 150/160 frame enhances vibration dampening and a new blade guide features Behringer's blade vibration absorber design. This feature, coupled with an active chip cleaning system, improves saw blade lifetime.