May 01, 2011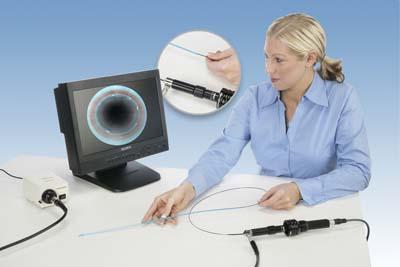 Manufacturers of very small machined or molded medical parts and components can now inspect for burrs, surface finish and other defects inside even the smallest components, thanks to the new Hawkeye Pro MicroFlex, fiber optic borescopes manufactured by Gradient Lens Corp. At 0.5, 0.9, and 1.5mm in diameter, the newest Hawkeye Pro MicroFlex's are the smallest diameter scopes in GLC's Hawkeye line of over 70 rigid, flexible and video borescopes.
Hawkeye MicroFlex produces high-quality images via high-resolution 10,000 or 30,000 pixel fiber-optic image bundles. The optic fibers also allow these borescopes to have flexible or semi-rigid flexibility, allowing them to reach into narrow, twisting paths.
"Undetected burrs, sharp edges and other defects can be extremely detrimental, especially to vital medical parts," said Dr. Douglas S. Kindred, GLC's president. "Sharp edges or small burrs can erode and potentially introduce foreign material into critical medical procedures. That's especially true in devices and components like valves, cannulas, catheters, needles, and trocars."
Hawkeye MicroFlex borescopes are available in lengths ranging from 6 to 39 inches (150mm to 1 m). An included C-mount Direct Video Adapter lets users attach the scopes to a C-mount video camera and capture images for further inspection or documentation.