March 03, 2020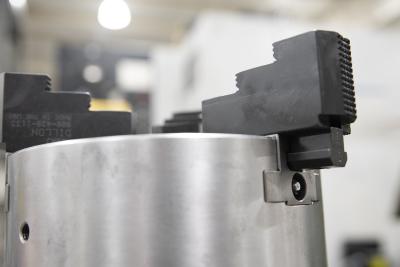 Hard Jaws from Dillon Manufacturing Inc. feature diamond-shaped serrations for increased pull down effect, which reduces part slippage and push back from using a bar feeder. The aggressive serrations on the gripping surfaces are also ideal for cast parts, scaly parts or parts with imperfections.
They are manufactured of 8620 steel and case hardened with precision ground locating surfaces. The jaws are black-oxide coated for corrosion resistance. The hard jaws are available in one-step or two-step sets and are reversible for OD or ID chucking. Only one set is necessary to cover a wide clamping range.
Dillon hard jaws are available in standard sizes from stock and in different mounting configurations including serrated, T&G, Acme and square serrated key types to fit all brands of chucks. Dillon chuck jaws are versatile with multiple radiuses for both inside and outside clamping making then suitable for any size run.
Dillon also offers special or modified hard jaws with a quick turnaround time, which saves time and money by reducing downtime.