April 01, 2014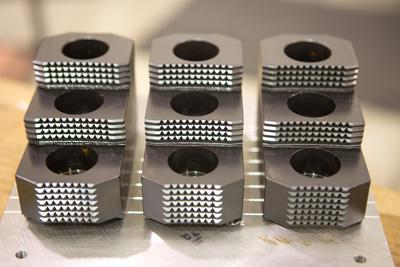 Hard jaws from Dillon Manufacturing Inc. feature diamond-shaped serrations for increased pull down effect which reduce part slippage and push back from using a bar feeder. The aggressive serrations on the gripping surfaces are also ideal for cast parts, scaly parts or parts with imperfections, according to the company.
Manufactured of 1018 or 8620 steel which is then casehardened and coated with black oxide for corrosion resistance, the hard jaws provide long jaw life and great precision with ground locating services.
They are available in different mounting configurations including serrated, T&G, Acme, and square serrated key types to fit all brands of chucks. Dillon chuck jaws are versatile with multiple radiuses for both inside and outside clamping making them ideal for any size run.
Dillon also offers special or modified hard jaws with quick turnaround time, which saves time and money by reducing downtime.
Related Glossary Terms
black oxide


black oxide

Black finish on a metal produced by immersing it in hot oxidizing salts or salt solutions.

chuck


chuck

Workholding device that affixes to a mill, lathe or drill-press spindle. It holds a tool or workpiece by one end, allowing it to be rotated. May also be fitted to the machine table to hold a workpiece. Two or more adjustable jaws actually hold the tool or part. May be actuated manually, pneumatically, hydraulically or electrically. See collet.

corrosion resistance


corrosion resistance

Ability of an alloy or material to withstand rust and corrosion. These are properties fostered by nickel and chromium in alloys such as stainless steel.