May 31, 2018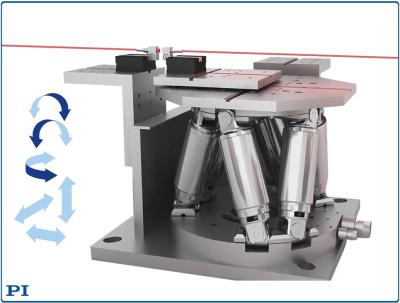 PI has added a high dynamics model to its range of compact hexapods. Designed for photonics alignment applications, the hexapod provides 6 degrees of freedom, actuator resolution of 5 nanometers and repeatability as good as 60 nanometers, while providing velocities to 20mm/sec. Sustaining loads to 5kg, the new H-811.F2 features a removable magnetic kinematic plate to accelerate workflow with different fiber optics components. Its compact size, large travel range of up to 34mm for linear motions and up to 42° for rotary motions, and a user programmable pivot point facilitate work with fiber optic and photonics components.

The hexapod is designed for industrial precision alignment applications with long-life brushless motors and low friction ballscrews and joints. A powerful controller with build-in multi-axis alignment routines makes the new hexapod an ideal tool for automatic alignment tasks.

Hexapods are 6 DOF positioning / motion systems that derive 6-axis movement (XYZ, pitch, yaw, roll) from actuators placed in parallel between a top and bottom platform. Available in a variety of sizes with bases ranging from 50mm to 1m and different load capabilities up to 2 tons, PI hexapods are an easy solution to complex multi-axis precision motion applications. PI hexapods come with state-of-the-art controllers and software tools based on 25 years of hexapod R&D, resulting in fast solution implementation to a plethora of applications from medical to photonics. All 6 axes can be commanded simply as Cartesian coordinates, and the center of rotation can be changed on the fly with a software command. Other advantages are the absence of friction and torque, caused by dragged cables.
Features and Advantages
6-Axis system (XYZ, Theta X, Y, Z)
Travel ranges to 34mm linear / 42° rotary
Strut resolution: 5 nanometers
Load capacity to 10lbs
Repeatability to 0.06µm
Velocity to 20 mm/sec

PI has in-house engineered solutions with over 4 decades of experience working with customers to provide products that meet application demands, and can quickly modify existing product designs or provide a fully customized OEM part to fit the exact requirements of the application.
Related Glossary Terms
degrees of freedom


degrees of freedom

Number of axes along which a robot, and thus the object it is holding, can be manipulated. Most robots are capable of maneuvering along the three basic Cartesian axes (X, Y, Z). More sophisticated models may move in six or more axes. See axis.

parallel


parallel

Strip or block of precision-ground stock used to elevate a workpiece, while keeping it parallel to the worktable, to prevent cutter/table contact.

pitch


pitch

1. On a saw blade, the number of teeth per inch. 2. In threading, the number of threads per inch.