October 31, 2019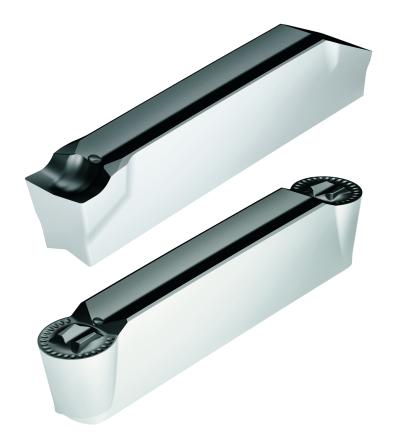 Walter has added PCD grooving inserts to its Walter Cut GX grooving system, the innovative tool technology for grooving and parting off. These new geometries, straight edge (F1) and full radius (M1) excel at grooving in aluminum and titanium alloys, bringing high cutting speed, longer tool life and fine surface quality to grooving, parting and recessing operations. These geometries work particularly well in aerospace, medical device and automotive applications.
The WDN10 is a new high-performance and wear-resistant polycrystalline diamond (PCD) grade that delivers outstanding hardness, a low coefficient of friction and minimum heat distortion. This helps result in maximum productivity and cost efficiency in the high-speed machining of nonferrous materials. These new Walter grooving inserts achieve excellent surface finish because of their exceptional cutting-edge sharpness. This sharpness is achieved by controlling the PCD grain size and through the Walter manufacturing process.
The GX24-WDN10 inserts boast chipbreaker geometry, are laser marked with grade designation along with ISO and ANSI corner-radius designation, and feature widths from 0.078 in. to 0.118 in. (2 to 8 mm).