September 01, 2011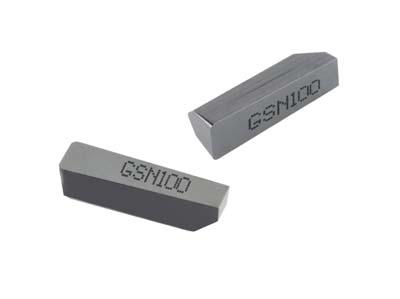 As part of its multi-year Global Productivity Initiative, Greenleaf Corp. has announced the introduction of a new Silicon Nitride ceramic insert grade, GSN-100. GSN100 is an engineered blend of silicon nitride and proprietary toughening agents that redefine productivity in the machining of cast iron. Brake drums, brake rotors, cylinder blocks and heads, machine beds, all types of gear cases and housings for trucks, tractors and farm equipment are a few of the popular parts where GSN100 will dramatically increase productivity.
"GSN100 delivers outstanding tool life at cutting speeds of up to 5000 SFPM (1525 M/Min) in single point turning and grooving operations as well as milling," states David Rydbom, Greenleaf's Vice President of Sales and Marketing. "GSN100 is available in standard and special geometries, trigons, Rough Stuff surface treatments and custom edge preparations for specific applications."
Greenleaf's Global Productivity Initiative is a multi-year campaign to provide unique, highly productive tooling solutions and services to Greenleaf's global customer base. The initiative includes new products, increased investment in production capabilities and the development of a larger, better-trained technical field service team.
Additional Products from Greenleaf Corp.