June 13, 2013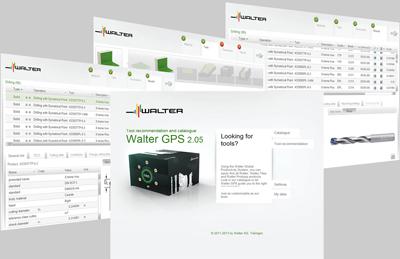 Walter USA LLC has unveiled the Walter Global Productivity System (Walter GPS). This advanced web-based tool selection system enables users to identify the most productive and economical tool solution for their particular application with just a few clicks of the mouse.
The site at http://www.walter-tools.com/en-gb/tools/search_and_shop/pages/default.aspx helps users to first identify the task to be performed. Walter GPS then asks for the workpiece material and the basic geometry of the part. It then allows the user to enter tolerances and specific conditions, such as slanted entry or cross holes. The machine used and the hourly machine rate can also be entered. All this data can then be saved into the system and retrieved in the future for easy reference, thereby saving time.
Then, drawing from Walter's catalog of more than 49,000 tools, the system suggests the most appropriate ones for the user's application, together with cutting data, economic efficiency calculations, tool life data and information on optimum cooling. It is also possible to link to related machining operations. For instance, when searching for the ideal tool for a threading application, the user can also have information on the most suitable core hole drill for the job displayed.
Walter GPS was designed to help users increase productivity and efficiency, says Peter Muller, manager of solid drilling and reaming tools R&D at Walter. "With Walter GPS, users can benefit from the accumulated expertise and decades of experience of our specialists in all matters concerning machining."
Related Glossary Terms
threading


threading

Process of both external (e.g., thread milling) and internal (e.g., tapping, thread milling) cutting, turning and rolling of threads into particular material. Standardized specifications are available to determine the desired results of the threading process. Numerous thread-series designations are written for specific applications. Threading often is performed on a lathe. Specifications such as thread height are critical in determining the strength of the threads. The material used is taken into consideration in determining the expected results of any particular application for that threaded piece. In external threading, a calculated depth is required as well as a particular angle to the cut. To perform internal threading, the exact diameter to bore the hole is critical before threading. The threads are distinguished from one another by the amount of tolerance and/or allowance that is specified. See turning.