September 01, 2014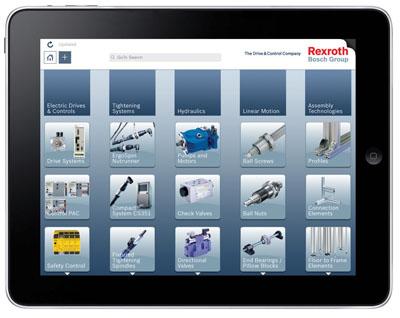 Bosch Rexroth has released version 4.0 of its popular GoTo Products app, a convenient mobile app for customers of Rexroth's GoTo Focused Delivery Program. The latest version, available for iPad, iPhone and Android devices, offers support for customers throughout the NAFTA region, with country-specific price lists and sales contact look-up.
Version 4.0 of the GoTo Products app includes all of the latest additions to Rexroth's GoTo Focused Delivery Program, with a powerful sync-on-demand feature that lets users update the app with the latest product offering any time, wherever they are. Localization to the user's country is automatic and occurs when the app is launched for the first time by the user, taking advantage of built-in device geolocation capabilities. It is now easier than ever for customers throughout NAFTA to place Rexroth's GoTo products in a shopping cart or wishlist, and email the order or RFQ to local Rexroth GoTo support personnel or sales partners—with just a few finger taps.
In addition to the newly-added support for Canadian and Mexican customers, the app has been further enhanced with additional useful how-to videos, podcasts and technical information, and users can now easily share content to social media channels directly through the app. A My GoTo Resources feature allows users to save frequently accessed content from the app and organize it into folders for later reference. GoTo Products app version 4.0 truly is the easiest and fastest way to take advantage of Rexroth's popular GoTo Focused Delivery Program. Links to download the new version from the App store and Google Play can be found at: www.boschrexroth-us.com/GoTo, www.boschrexroth.ca/GoTo and www.boschrexroth.com.mx/GoTo.