October 20, 2017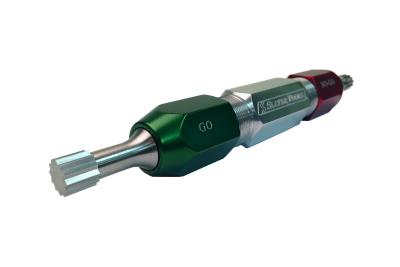 Slater Tools introduces its new and comprehensive product line of GO/NO-GO gage sets for customer-specific applications. The full range of gages are designed and engineered precisely to inspect parts for machining process variations, such as form size, twist and tool wear.
Ideal for use with Slater Tools rotary broaches, these gages are held to tight tolerances, within 0.0002 inches (0.005 mm). They are produced from oil hardened M2 high-speed steel and can be custom made to any shape or size to fit custom needs.
All gages are offered for numerous shapes, either as full form composite, sector or progressive forms. Both plug and ring gages are offered for checking internal or external forms. The company offers long-form gage certification upon request for those applications and industries that require it.
"Our customers are facing increased demands to produce precision parts with fast turn arounds. It has always been our goal to provide support for our customers' success, and with the new gage line, they have the tools they need to quickly check their parts," explains Kris Renner, director of operations at Slater Tools.
Popular shape gages, such as hexagon and six lobe (hexalobular), are available as standards in both inch and metric dimensions. Custom plug and ring gages are also available with rapid turnaround times. Both standard and custom inspection gages are available as GO/NO-GO sets or can be purchased individually.