April 01,2014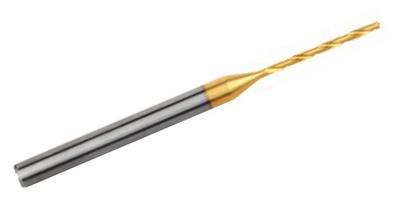 The GOdrill, Kennametal's first microdrill, works with multiple applications and effective drills multiple materials. The GOdrill is specially designed for holes from 1 to 12.7mm (0.0394 to 0.5 inches) in diameter. Due to its unique design, the GOdrill expands the advantages of modular drills into the small-diameter range. High-end material grades, a wear indicator coating, and new, proprietary geometries allow shops to fully utilize the tool life capacity of the drill, according to the company.
In addition, the GOdrill qualifies as a cost-effective throw-away type tool in the given diameter range. A multi-purpose solid-carbide microdrill, the GOdrill is for customers with a need to drill small to medium-sized holes at a reasonable price.
Its unique design makes the GOdrill a very versatile tool to be used in a broad variety of materials and workpieces. The proprietary marginless design reduces friction and heat, while its straight cutting lip with protection chamfer allows no starting point for wear and an even distribution of cutting forces. This results in longer tool life in all materials due to less chipping on the cutting edge.
Built on Kennametal's proprietary KC7325 grade of solid carbide, the GOdrill also features a multilayer TiAlN-based coating for high hot hardness. This not only enables high cutting speeds, it also provides excellent holemaking, even in minimum-quantity lubrication (MQL) situations. A second TiN top layer serves as a visual wear indicator, useful for achieving full tool life in microdrills.
GOdrills are available in solid (flood coolant) or through-coolant options and are suitable for a range of materials and applications, including fuel systems and precise medical components.
Related Glossary Terms
hardness


hardness

Hardness is a measure of the resistance of a material to surface indentation or abrasion. There is no absolute scale for hardness. In order to express hardness quantitatively, each type of test has its own scale, which defines hardness. Indentation hardness obtained through static methods is measured by Brinell, Rockwell, Vickers and Knoop tests. Hardness without indentation is measured by a dynamic method, known as the Scleroscope test.

minimum-quantity lubrication


minimum-quantity lubrication

Use of cutting fluids of only a minute amount—typically at a flow rate of 50 to 500 ml/hr.—which is about three to four orders of magnitude lower than the amount commonly used in flood cooling. The concept addresses the issues of environmental intrusiveness and occupational hazards associated with the airborne cutting fluid particles on factory shop floors. The minimization of cutting fluid also saves lubricant costs and the cleaning cycle time for workpieces, tooling and machines. Sometimes referred to as "near-dry lubrication" or "microlubrication."

titanium nitride ( TiN)


titanium nitride ( TiN)

Added to titanium-carbide tooling to permit machining of hard metals at high speeds. Also used as a tool coating. See coated tools.