May 01, 2015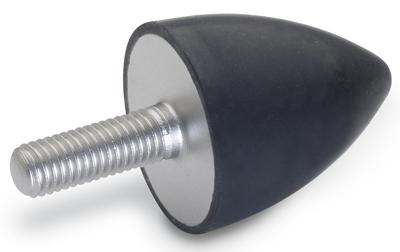 J.W. Winco Inc. offers GN 453.1/GN 453.2 vibration/shock absorption mounts with stainless steel components, conical type, in inch sizes.
These RoHS-compliant mounts, also known as shock absorbing mounts, vibration mounts, anti-vibration mounts, vibration bobbins, or rubber bumpers, are frequently used as end-stop bumpers, e.g., for conveyor trolleys. Absorbing most of the accumulated kinetic energy on impact, they act as dampers and prevent damaging shock and rebound, and are also used as sound dampers. They can also be used as leveling feet. The parabolic shape of these isolation mounts generates progressive resilience characteristics: Impact and shock effects are absorbed more gently.
The mount body is made of natural rubber (NR), vulcanized, 55 durometer (shore hardness +/-5°). The cover plate is stainless steel, molded" Versions with either tapped inserts or threaded studs are offered; both are made of stainless steel, molded"
Related Glossary Terms
hardness


hardness

Hardness is a measure of the resistance of a material to surface indentation or abrasion. There is no absolute scale for hardness. In order to express hardness quantitatively, each type of test has its own scale, which defines hardness. Indentation hardness obtained through static methods is measured by Brinell, Rockwell, Vickers and Knoop tests. Hardness without indentation is measured by a dynamic method, known as the Scleroscope test.