June 13, 2013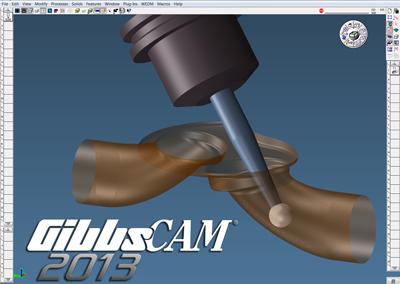 Gibbs and Associates, developer of GibbsCAM software for programming CNC machine tools and a Cimatron company, announced that it has released the newest version of GibbsCAM NC programming software, GibbsCAM 2013. This new version includes enhancements to the entire suite of GibbsCAM software to improve efficiency and profitability. Two new options have been added to the software suite as well, 5-Axis MultiBlade and 5-Axis Porting.
GibbsCAM 2013 includes many software enhancements, mostly focusing on increasing the efficiency of part programming and the efficiency of machine run time. Enhancements include:
Mill Feature- Allows the user to assign certain machining attributes directly to part features. This allows users to save and reuse Knowledge Based Machining (KBM) information for best practice machining on families of parts. New parts and part changes are handled quickly and easily by a single mouse click.
Lathe Threading/Thread Whirling- Users can now define lathe threads from any valid shape, including shapes that contain arcs or splines. Post processors can be upgraded to support native arc threads (G35 and G36) for a more efficient NC program.
Surface Flow- Improved machining strategies for solids machining include an improved algorithm that smoothly handles most nonplanar fillets and other blended faces, resulting in better surface finish and more efficient NC code. New functionality allows users to manipulate shapes that can be combined through Boolean operations such as union, subtraction, and intersection, trimmed, or broken into segments.
Profiler modes- The Profiler now has increased functionality allowing users to slice spun bodies, silhouettes, and cylinders.
Lathe Plunge Roughing- Improvements to Lathe Plunge Roughing result in toolpaths that remove more material in less time with improved tool wear.
Drilling and Thread Milling Patterns- Users can now place Drilling and Thread Milling in patterns.
Pre-mill drilling of patterned milling operations will pick up the pattern automatically.
Pocketing Improvements- Several improvements to Pocketing continue to improve the efficiency of the program, including features such as "Outermost Shape As Boss" and improvements to mixed-shape pocketing with smarter entry and exit moves.
The new 5-Axis MultiBlade option targets the machining of turbo machinery parts. It simplifies the programming of impellers, blisks and blings with specialized functions that include roughing, blade finishing, hub finishing, splitter, sub-splitter and wall finishing, and extension and control of leading and trailing edges.
A new 5-Axis Porting option provides specialized functionality for the machining of hollow shapes that have significantly different shapes or sizes at each open end or have a significant amount of curvature from one end to the other, including engine ports, manifolds, and throttle bodies. This dedicated new option simplifies the creation of these highly complex shapes with faster programming time, a cleaner, more efficient toolpath and more efficient machine times.