September 01, 2016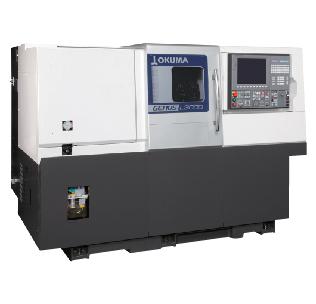 Okuma says its new GENOS L3000-M one-saddle lathe is strong, fast and ideal for cutting a range of exotic materials with ease. The integral spindle motor provides increased machining capacity and rigid guideways handle powerful cutting capabilities.
The GENOS L3000-M has high speed milling, and Y-axis options on specific models allowing users to select the best specifications for a particular workpiece length and shape. Shop floor productivity is increased with a mounted NC tailstock that allows for easy setup of various workpieces. TAS-C (Thermo Active Stabilizer) construction is standard and automatically compensates thermal effects to maintain tight tolerances.
The GENOS L3000-M is an operator-friendly designed machine that simplifies cleaning, filtration and maintenance tasks. User-friendly features include:
A separate cooling tank for quick servicing
Easy spindle access to reduce operator work burden and maintenance tasks
Reduced chip accumulation during long, continuous runs decreases machine downtime for cleaning.
Key features of Okuma's GENOS L3000-M horizontal lathe:
Max Turning Diameter/Length (in) Ø 11.8
Spindle Nose/Chuck (in) A2-8 /10
RPM Range 38~3,800
Tailstock NC: MT#5
Rapid Traverse (X/Z), ipm 984/1,180
Floor Space (in) 98 x 74
Weight (lb) 11,023