August 08, 2017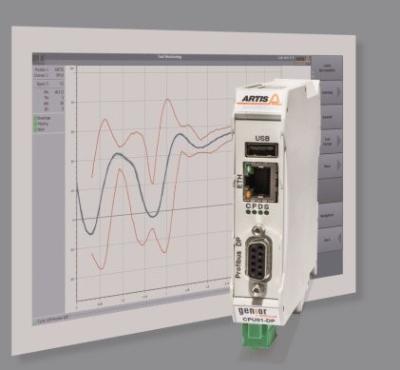 Marposs offers the Genior Modular from Artis Systems, a fully automatic process monitoring and control solution for machine tools. Genior Modular can monitor up to 10 simultaneous machining processes, including tool wear, tool breakage and missing tools; providing tool and machine protection; and for adaptive control of machining processes. The system increases productivity and reduces operating costs by safeguarding the machining processes, shortening cycle times and optimizing tool life, as well as significantly reducing the need for operator intervention.
During the setup phase, as many signals as possible are captured, enabling the system to automatically set the upper and the lower alarm limits. During production, Genior Modular dynamically adapts the limits (e.g. tool wear) taking into consideration influences from temperature, material microstructure or material-specific properties.

The system captures data digitally or via sensors, and then evaluates the data based on multiple criteria and visualizes the processes in a transparent way. Sensors can usually be positioned close to the process to collect data independently of the sampling rate of the controls and the layout of the machine. Artis has a range of different sensor types, which can measure feed force, torque, vibration, true power and more. Each sensor comes with a transducer which processes the data for the evaluation electronics in the process monitoring system.

Genior Modular is easy to install and to integrate in machine controls with installation on DIN rails in a control cabinet. It requires little adjustment to existing NC programs, and no special training for operators is required. Depending on the area of application, visualization and operation can be done alternatively via standard controls (e.g. Siemens Sinumerik 840 D SL and PL) or an external system (Windows or Linux). Standard fieldbus technologies are used for the interface.
Related Glossary Terms
feed


feed

Rate of change of position of the tool as a whole, relative to the workpiece while cutting.

microstructure


microstructure

Structure of a metal as revealed by microscopic examination of the etched surface of a polished specimen.

numerical control ( NC)


numerical control ( NC)

Any controlled equipment that allows an operator to program its movement by entering a series of coded numbers and symbols. See CNC, computer numerical control; DNC, direct numerical control.