May 31,2017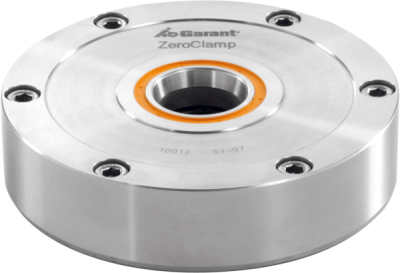 Hoffmann Group knows that with the growing complexity of production and the increased diversity of components, new challenges in the production process arise for customers. Available from Hoffmann Group USA is the GARANT ZeroClamp system, a highly accurate clamping system for the metalworking industry.
The GARANT ZeroClamp was launched on to the market 7 years ago and has now become well established. Satisfied customers already have more than 55,000 clamping pots in use, each saving hard cash. Due to its highly flexible and unlimited capability for applications, this clamping system scores highly among customers. The ZeroClamp system is suitable for all types of machines because it can quickly and individually configure for all applications.
Due to its hollow-shank taper principle, when retracting the clamping bolt, the elastic part of the taper ring of the chuck slightly expands, thus providing a highly accurate fit, with repeatability of less than 3 microns. If the measurement process shows the component needs further machining, the component can be positioned on the machine quickly and precisely with high repetition accuracy – be it for call batch or a one-off item.
Unlike other systems that have many bolt sizes, the ZeroClamp system only requires one type of clamping bolt. Thermal symmetry is provided at all times through its central zero point, important for workpieces that rotate around a central axis. The ZeroClamp system guarantees repetition accuracy, providing clean clamping points and efficient production.
Long setup times area thing of the past. The GARANT ZeroClamp zero point clamping system increases productivity in manufacturing. Be it milling, turning, spark erosion, measurement, grinding or presetting – the latest clamping technology provides applications in all situations and suitable for a wide range of special jobs.