July 02, 2019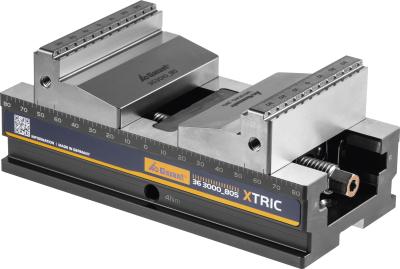 Hoffmann Group USA announces the new centering vise called the GARANT Xtric. The vise is equipped with a new chuck jaw quick-change system, which enables easy, tool-free changeover. A click mechanism gives the vise an interchange accuracy in the micrometer range. Top jaws, which can be rotated by 180 degrees, allow for a large clamping range and high variability when fixing components. And clamping using multiple GARANT Xtrics is not a problem, the center can be adjusted precisely to achieve top precision.
"The new GARANT Xtric is suitable for clamping both blanks and finished parts," said Charlie Slagle, president and CEO of Hoffmann Group USA. "In addition, pre-stamping components is not required. Therefore, a time savings of 50% is possible when setting up."
With the new GARANT Xtric, the top jaws can be replaced or rotated by 180 degrees by hand, without using any tools. For this purpose, the top jaws are inserted into a dovetail and pushed down via two spring plates until they engage. There is no need to remove and re-thread the spindle nut. With this unique "click and clamp" system, the GARANT Xtric can significantly contribute to a reduction in setup costs.
With its rotating top jaws, the GARANT Xtric provides a particularly large clamping range of 0 to 144 mm in the case of the model 80S, and 0 to 194 mm in the case of the model 80M. An additional model with a jaw width of 125 mm will be launched soon. All models are alternatively available with pivot jaws.
If a clamping force of 25 kN is applied directly on the component, the vise will also be suitable for clamping unfinished parts. If a gripper jaw with GARANT tooth form is used, pre-stamping can even be eliminated. For customers that already use the "Lang" system, there are suitable top jaws with the Lang system tooth form. The top jaws are available both uncoated and coated.
To clamp larger workpieces using multiple centering vises, the center can be adjusted precisely - to the micrometer. And if required, can be shifted by up to 0.5 mm on each side (by one millimetre in total). To do this, simply release the screw on the side, reset the center using pin wrenches and then retighten the screw on the side.
Longitudinal grooves for precise alignment on the machine table, bores for the Lang positioning system and adapter plates for clamping on the GARANT Zero Clamp zero-point system round off the range. Adaptation to other zero-point clamping systems is also possible.
Related Glossary Terms
centering


centering

1. Process of locating the center of a workpiece to be mounted on centers. 2. Process of mounting the workpiece concentric to the machine spindle. See centers.

chuck


chuck

Workholding device that affixes to a mill, lathe or drill-press spindle. It holds a tool or workpiece by one end, allowing it to be rotated. May also be fitted to the machine table to hold a workpiece. Two or more adjustable jaws actually hold the tool or part. May be actuated manually, pneumatically, hydraulically or electrically. See collet.

micrometer


micrometer

A precision instrument with a spindle moved by a finely threaded screw that is used for measuring thickness and short lengths.