February 15,2017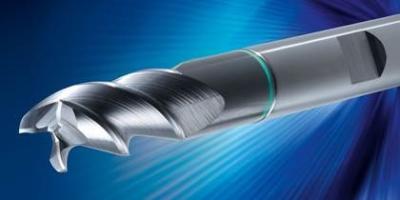 The Hoffmann Group offers a universal milling cutter for cutting steel from the MasterSteel product range. The GARANT MasterSteel PickPocket is for all milling disciplines. The tool is suitable for milling slots and pockets, as well as for side milling. However, its maneuverability for ramping and helical milling makes it particularly impressive. This all-rounder even achieves outstanding performance for drilling. The GARANT MasterSteel PickPocket is therefore suitable for anyone who is looking for a flexible solution for a range of tasks with a single solid-carbide mill.
The new GARANT MasterSteel PickPocket features an innovative front cutter geometry with three cutting edges and a drill tip recessed towards the milling shaft. The concept with three cutting edges enables large flutes in comparison with a classic four-cutter design, which is why swarf can be routed away better. This makes the tool an excellent match for aggressive ramping and plunging.
The outstanding smooth cutting action and stability of the tool are due to the unevenly spaced end face and a dynamic helical pitch, together with a special core diameter increase. The crescent shape of the end face makes the cutting edges particularly robust for plunging and ramping. At the same time, the positive rake of the solid carbide mill makes it very free-cutting and therefore ideally suited for machining fragile and thin-walled components.
The GARANT MasterSteel PickPocket is available for a diameter of 5.7 to 20 millimeters in the standard length.