August 10,2020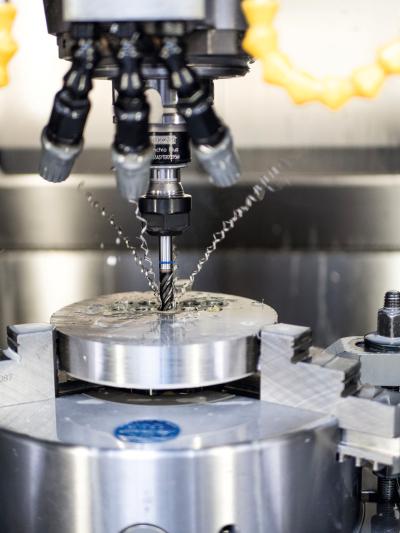 The Hoffmann Group, a leading system partner for quality tools, has expanded its GARANT Master Tap product range to include additional high-performance taps for reliable thread tapping in stainless and high-alloy steels. The GARANT Master Tap INOX tap is now available for thread diameters from M1.6 to M24 and with longer lengths for increased reach. It is also available for UNC and UNF inch diameters from No. 2 to 1" standards in addition to the thread standards M, MF, and G (BSPP). These new tools are available now from our eShop www.hoffmann-group.com and can be ordered using the 2020/2021 catalog which launched August 1.
The GARANT Master Tap INOX is suitable for producing through and blind hole threads with a tolerance of 6GX. As with all tools from the GARANT Master Tap product range, it provides top process reliability, performance capability, and a long working life because a special cutting edge geometry provides evenly turned chips that are ejected in a targeted way due to the optimized flutes. The backs of the teeth are specially designed to shear off the chips, polish the chip roots, and prevent loose or twisted swarf from forming.
The cutting edges of the GARANT Master Tap INOX have also been rounded off to ensure reliable thread machining in stainless and high-alloy steels. As a result, the teeth resist fracture and the tool wears evenly. A wear-resistant HSS-E-PM tool material and low-friction TiAIN multi-layer anti-friction layer protect against premature wear.
Thanks to the expanded product range, there are now even more tools available to professional users for reliable thread machining in stainless and acid-resistant steels. Users that also often want to machine materials such as different steels, aluminum, brass, and cast iron can alternatively make use of the GARANT Master Tap general-purpose tap. It achievesprecise results, even in ductile copper alloys, without any axial overcutting and makes frequent tool changes redundant.
The Hoffmann Group debuted the GARANT Master product range in 2015 to make high-performance cutting with particularly powerful and reliable tools even more productive. The product range has been systematically expanded since then and now offers state-of-the-art high-performance tools for every application.