April 07, 2020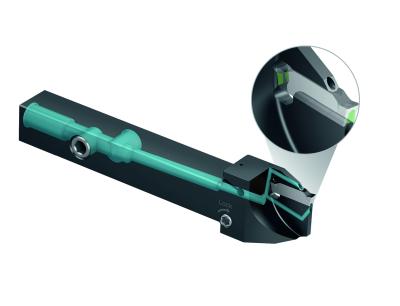 The new Walter G4014-P grooving tool holder is ideal for small part machining operations such as swiss type machining. ​The system offers an innovative new "SmartLock" insert clamping feature to access the clamping screw from the side.
This makes it possible to change inserts in the machine – even where space is limited—in particular on long center lathes and multi-spindle machines. As a result, changing inserts is approximately 70% faster. The clamping forces are around 30% higher than those of existing tools in the market, increasing the stability and enabling users to achieve a significantly longer tool life. The clamping screw can be accessed from either left or right side; thus, the operation of the tool from either side is possible, making it a very flexible system.
The patent-pending positive engagement design of the insert seat also contributes to the flexibility. The cutting insert is seated in the insert pocket with an innovative prismatic design. This prevents incorrect engagement, especially for narrow insert widths, and enables an extremely high level of indexing accuracy. The Walter grooving system consisting of G4014-P and DX18 inserts is available in the shank sizes of ½- 5/8 in. and 10–20 mm, with insert widths from 0.059-0.118 in. (1.5–3 mm) and for parting off diameters of up to 1.38 in. (35 mm).
The holder designs are offered with either precision cooling on the rake and flank faces or without internal cooling. These special features make the system the current benchmark in terms of the mass production of small parts like shafts, plug contacts, nozzles or implants. Typical applications include automotive suppliers, medical engineering as well as the electronics, food processing, watchmaking and general engineering industries.