January 17, 2019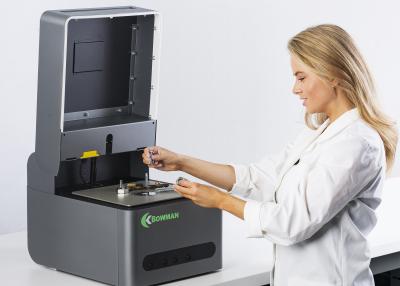 Bowman, a US manufacturer of XRF quality control instruments, has debuted an important addition to their suite of benchtop XRF plating measurement systems. Bowman's G Series XRF is a robust system that's suited for jewelry, connectors and other precious metal analysis. Because it quantifies zinc, zinc-nickel and other anti-corrosion coatings, it is also suitable for components such as fasteners.
The two most distinctive features of the G Series are "bottom-up" measurement using a motorized Z-axis with laser-based auto-focus, and precision video imaging. An available manual XY stage with 1.5 X 1.5" travel facilitates easy positioning of small and large parts.
The standard G Series configuration includes a single fixed collimator, solid-state PIN detector, and long-life micro-focus x-ray tube. As with all Bowman models, the components can be upgraded to include multiple collimators, a variable focal camera, or an SDD detector.
Like others in the Bowman XRF portfolio, G Series instruments simultaneously measure up to five coating layers, 10 elements in each layer, a total of 25 elements in all. Element range is Al (13) through U (92.)
To quantify coating thickness from the detected photons, G Series systems run advanced Xralizer software. Xralizer combines intuitive controls with time-saving shortcuts, extensive search capability, and "one-click" reporting. The software also allows easy creation of new applications by the user. Equally important: G Series XRFs are full-access instruments from the day of install: there are no dongles or lock-outs to complicate, delay, or add cost.
Bowman's G Series desktop XRF was developed for quality labs and production environments. It is advantageous for users with limited benchtop space or budget limitations. G Series XRFs are suitable for both coating thickness and solution analysis.
Related Glossary Terms
quality assurance ( quality control)


quality assurance ( quality control)

Terms denoting a formal program for monitoring product quality. The denotations are the same, but QC typically connotes a more traditional postmachining inspection system, while QA implies a more comprehensive approach, with emphasis on "total quality," broad quality principles, statistical process control and other statistical methods.