May 20, 2019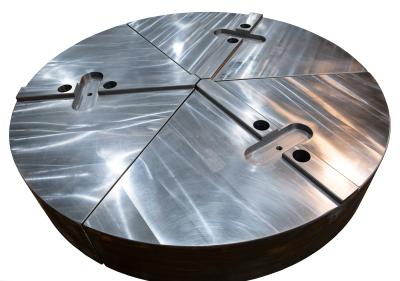 Dillon full grip jaws, machined from 6061 extruded aluminum for increased strength, are now available up to 28-inches in diameter. Machining from bar stock eliminates the porosity inherent with large-diameter aluminum castings, providing a stronger and more reliable workholding product.
These jaws can be modified to heights of 10" and widths that extend beyond the chuck face diameter, thus increasing the chucks capacity. Dillon Chuck Jaws can provide both standard and special pie jaws in 1.5mm x 60°, 3.0mm x 60°, 1/16th x 90° and 3/32 x90° serrations, American standard and metric tongue and groove, and acme and square serrated key-type mounting interfaces.
Also available in 1018 CR steel and cast iron. Most standard and special jaw modification have less than a two-week lead time.
Dillon Chuck Jaw products are made in the USA in an ISO 9000-2015 registered facility.
Related Glossary Terms
chuck


chuck

Workholding device that affixes to a mill, lathe or drill-press spindle. It holds a tool or workpiece by one end, allowing it to be rotated. May also be fitted to the machine table to hold a workpiece. Two or more adjustable jaws actually hold the tool or part. May be actuated manually, pneumatically, hydraulically or electrically. See collet.