September 06, 2016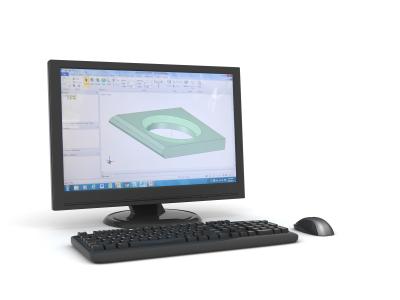 Flow International Corp. announced the next generation of waterjet software, FlowXpert 2016. FlowXpert is a robust CAD/CAM waterjet software platform for 3D pathing and cutting that allow users to work more effectively in 3D, with less complexity.
"FlowXpert is the leading programming tool in the waterjet industry," said Chip Burnham, vice president of marketing for Flow. "The 2016 release provides users greater flexibility in design and pathing which will significantly increase the benefits for basic and complex waterjet parts."

The software integration was engineered in partnership with ANSYS SpaceClaim and realizes the full advantages of Flow's more than 40 years of waterjet application expertise. Incorporating waterjet best practices, such as application tips, material cut speed knowledge, improved pathing algorithms and expanded lead in/out customization, the program anticipates what steps are needed to provide a premier cut. Users get faster, smarter, interactive modeling integrated into a familiar interface, according to the company.

"FlowXpert 2016 is based directly on feedback from our customers," continued Burnham. "The end result of extensive field testing is a smarter system that allows work to be completed in fewer steps with a more intuitive design process. This is powerful, straightforward 3D, and anyone can use it."

The integration with the CAM Flow Sequencer module lets users design a part and path it in the same program. Modifying the geometry of a part is possible without losing the path, and the integration with Flow Sequencer will automatically update the path to accommodate the changes. FlowXpert 2016 will detect model and path errors and suggests fixes. The straightforward control means users get cutting faster.
New capabilities in FlowXpert 2016 include:
Ability to create full 3D models and assemblies
Optimized pathing, including new pathing algorithms for smarter auto-pathing
One-Click pathing for 2D files
Ability to program directly from the native model without converting file types
Fast, versatile sheet metal processing from SpaceClaim
Waterjet specific geometry analysis with advanced clean up tools customized to your waterjet