February 03, 2021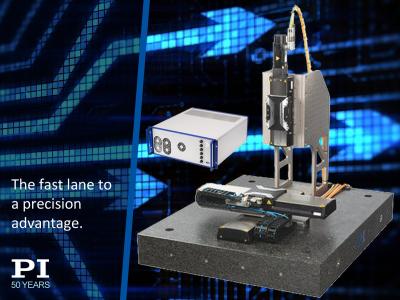 Machine builders and system integrators can move faster and address new, higher precision applications with reduced risk and cost, due to the extensive testing that went into the X-417 pre-configured high-accuracy motion and automation systems, including EtherCat motion controllers and software. Its modular design enables application-specific configurations, scalability with optional accessories, and delivery by PI already aligned, tuned, and calibrated to your specifications.
Flexible XY and XYZ Systems based on Proven, High Performance Linear Motion Modules and EtherCat-based Controller
The XY base system is made of two 3-Phase motor powered V-417 linear stages with travel ranges from 204 to 407mm. Integrated absolute-measuring linear encoders provide better reliability, while eliminating the need to reference. A granite base plate is available for stability and can hold the G-901 EtherCat-based controller with ACS driver module. PI supports customers, system integrators, and machine builders to quickly configure and integrate the appropriate system, reducing design and development time while optimizing the outcome.

The XYZ system includes an L-412 high-load linear stage mounted vertically, providing 4" (102mm) travel range. The Z-stage is equipped with a synchronous servo motor and a holding brake.
Related Glossary Terms
modular design ( modular construction)


modular design ( modular construction)

Manufacturing of a product in subassemblies that permits fast and simple replacement of defective assemblies and tailoring of the product for different purposes. See interchangeable parts.