March 13, 2013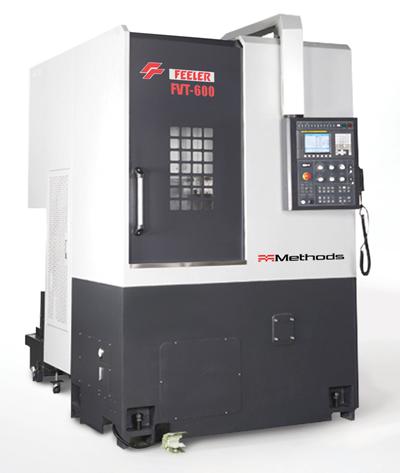 Methods Machine Tools Inc. has introduced the new High Performance FEELER FVT-600 Vertical Turning Lathe, ideal for machining large, heavy, challenging parts including those used in aerospace and power generation industries. To easily automate processes for high-volume production applications, the FEELER FVT-600 is available in left-side and right-side versions, allowing automation to be strategically stationed between the lathes.
"Increasingly, manufacturers are relying on vertical turning lathes to accommodate their larger and heavier parts," said Mr. Dale Hedberg, FEELER Product Manager, Methods Machine Tools Inc. "We are pleased to introduce the FEELER FVT-600 which is equipped with heavy-duty roller type linear guideways, resulting in high rigidity when making heavy cuts."
To minimize thermal deformation and vibration, and increase positioning accuracy, the FVT-600 features rugged construction and precision ballscrews that are directly coupled with highly responsive AC servo motors. The new FEELER vertical turning lathe offers a high-precision and high-rigidity spindle which is supported by two double-row cylindrical roller bearings and duplex angular thrust bearings.
This enables the lathe to endure heavy cutting in both radial and axial directions, resulting in high accuracy during long cutting cycles. The FVT-600 design permits coolant to flush chips to an extra wide conveyer where the chips are immediately evacuated.
The FEELER FVT-600 features a 12 position turret and offers an X-Axis travel of 12" (305mm) and a 25.6" (650mm) Z-Axis travel. Spindle speeds range from 50 to 2,000 RPM on a standard chuck size of 15" (381mm) and optional chuck sizes including 18" (457.2mm), 21" (533.4mm) or 24" (609.6mm), providing a high metal removal rate of 24 m/min. The new FEELER lathe offers a maximum turning diameter of 23.6" (600mm) and a maximum turning length of 25.6" (650mm). Maximum workpiece weight is 2,205 lbs (1,000 kg).
A reliable, easy-to-use FANUC 0i-TD control is standard and available in a swiveling control box for ergonomics and convenience. The FEELER FVT-600 offers a compact footprint at 134" length x 71" width (3,400mm length x 1,800mm width) and weighs 19,842 lbs (9,000 kg).