May 08,2021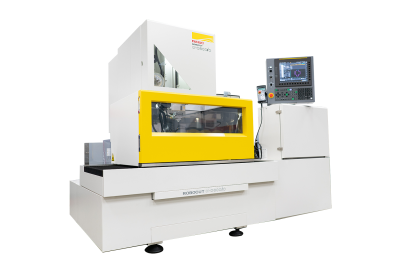 Methods Machine Tools, Inc., one of the leading suppliers of machine tools and automation equipment in North America, recently added the FANUC RoboCut α- CiC series to its line of wire electrical discharge machining (EDM) products.
"The α-CiC series continues to push the boundaries of speed, precision, and reliability," said Steve Raucci, Methods' Technical Sales Director and RoboCut Product Manager. "The redesigned α-CiC series creates a faster, more exact EDM experience."
The next generation of the RoboCut features innovative technology, making it the most productive wire EDM machine on the market. Constructed for ultimate rigidity, the advanced EDM machines minimize the amount of distortion embedded into each part. New discharge devices, powered by the SF3 power supply, improve surface roughening capabilities while maintaining high cutting speeds.
Additional features include a taper adjustment function for high-precision taper cutting, thermal displacement compensation for increased stability, and faster cycle times thanks to the automatic wire feeding system, AWF3, and core stitch technology.
Currently available in two sizes, the RoboCut α-C400iC has travel lengths of 15.748" (400 millimeters (mm) on the X-axis, 11.811" (300 mm) on the Y-axis, and 10.039" (255 mm) on the Z-axis.
Travel on the α-C600iC is 23.622" (600 mm), 15.748" (400 mm), and 12.204" (310 mm) on the X-, Y-, and Z-axis, respectively.
The new models replace their respective counterparts in the α-CiB series. The C800iB, which belongs to the previous generation of RoboCut, the α-CiB, is still a part of Methods' product offering.
Related Glossary Terms
electrical-discharge machining ( EDM)


electrical-discharge machining ( EDM)

Process that vaporizes conductive materials by controlled application of pulsed electrical current that flows between a workpiece and electrode (tool) in a dielectric fluid. Permits machining shapes to tight accuracies without the internal stresses conventional machining often generates. Useful in diemaking.

wire EDM


wire EDM

Process similar to ram electrical-discharge machining except a small-diameter copper or brass wire is used as a traveling electrode. Usually used in conjunction with a CNC and only works when a part is to be cut completely through. A common analogy is wire electrical-discharge machining is like an ultraprecise, electrical, contour-sawing operation.