July 16, 2020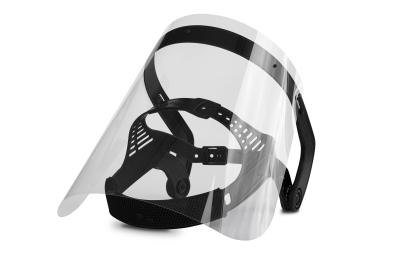 From stay-at-home orders forcing businesses to close for months, to businesses reopening and struggling to find Personal Protective Equipment (PPE), COVID-19 impacted the world in devastating ways and created new issues that people across all industries had to face head-on. HAIMER listened and responded, as always, by providing an innovative solution to help customers return to work safely.
Recently, HAIMER launched the new HAIMER Face Shield that helps to minimize the spread of illnesses while being extremely comfortable to wear. The adjustable visor is made of high quality plastic which allows for repeatable use. Because of this, the product is sustainable and environmentally friendly through easily replaceable visors and head cushions. It also fulfills PSA Regulation (EU) 2016/425 category II, respectively requirements of eye protection according to EN 166:2001, ANSI/ISEA Z87.1-2020, CSA Z94.3:20 to protect against droplets and splashes (partly applied).
Like all HAIMER products, it is made in Germany and it is produced by injection molding on German machines. When the first shipment of the HAIMER Face Shields arrived at Haimer USA, the team decided to donate masks to the Old Saybrook Dentist office located in Old Saybrook, Connecticut. Upon receiving the donation, Dr. Paul Bied, DDS and his staff tried them out at the practice. "It is definitely made to the highest German quality," Bied explains. "It is very comfortable to wear."
The HAIMER Face Shield is ideally suitable for production companies (industry and handcraft) and offices as the visual field is not limited. This product is available through our distribution partners, sales team, and Amazon.