July 11, 2017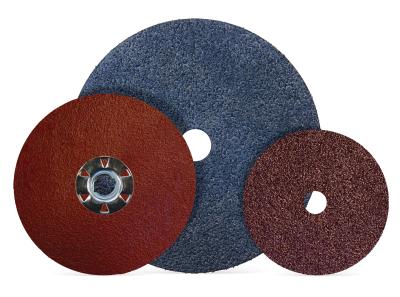 Weiler Abrasives Group announced the expansion of its resin fiber discs (RFDs) offering to include five new products for varying performance requirements: Tiger Ceramic, Zirc and Aluminum, and Wolverine Zirc and Aluminum Oxide. These discs are designed to provide an aggressive cut rate and a smooth finish on tool steel, aluminum and any material in between. The products are ideal for heavy stock removal, edge chamfering, weld blending, grinding, and surface preparation and finishing.
Featuring advanced grain formulas, along with a design that minimizes loading, glazing and grain stripping, the new Tiger and Wolverine resin fiber discs include heavy-duty vulcanized fiber backing to withstand tough jobs. In addition to standard 7/8 arbor discs, a quick-change hub option reduces downtime and eliminates the need for tools and disc nuts.
As part of Weiler's maximum performance line of RFDs, Tiger Ceramic features an advanced, self-sharpening ceramic grain that delivers greater stock removal with a finer scratch pattern, along with a superior life and cut rate, according to the company. A top coat grinds cool, reducing heat discoloration and loading. This disc is ideal for work on armored steel, stainless and tooled steel, Inconel and more, in applications requiring high removal rates.
Tiger Zirc and Aluminum are part of Weiler's high performance line of RFDs. Tiger Zirc leverages a blend of shelf-sharpening zirconia-alumina and ceramic-alumina grains for fast cut rates, exceptional consistency and a long life. This makes them ideal for improving productivity and cost savings on light to heavy pressure grinding applications on materials such as steel, stainless steel and cast iron. Tiger Aluminum provides a non-loading solution for grinding aluminum and other non-ferrous metals. A top coating releases lubrication when grinding to reduce heat build-up and allow the metal to shed for higher cut rates, longer life and a superior finish.