March 31, 2016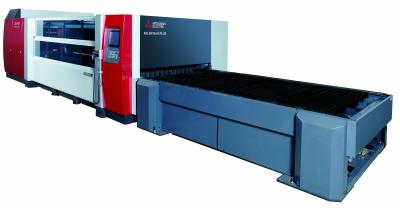 MC Machinery Systems Inc. announces its newest CO2 laser: the eX Plus series. The updated, offering expands on Mitsubishi's popular eX series and LVPlus II model. Improvements like its high-speed, heavy-duty motion system and more powerful piercing can reduce processing times by 50 percent when compared to previous generations.
Noteworthy improvements built in to the eX Plus include an updated, more convenient power/gas consumption monitor, an advanced processing-time display for easier, more accurate cycle estimation, plus enhanced editing and graphical capabilities assist with faster calibration. The new PHXS Head features a lens cartridge design for more constant centering and focal length options up to 10".
Three control axes are balanced by fast and quiet helical rack and pinion guides on the X and Y and precision ball screws on the Z. The system's rigid, single-platform dianite cast frame pairs with Enhanced Diamond Path Technology for constant beam control that results in exceptional cutting accuracy and speed. Other advances include a 60-percent improvement, approximately 10 minutes from startup, in gas change time.
In addition to faster movement and piercing, users can save energy and reduce cost during standby with ECO MODE. Expanded programming on the Mitsubishi Control, a new graphical interface and USB compatibility make operating the machine easier than ever.
Related Glossary Terms
calibration


calibration

Checking measuring instruments and devices against a master set to ensure that, over time, they have remained dimensionally stable and nominally accurate.

centering


centering

1. Process of locating the center of a workpiece to be mounted on centers. 2. Process of mounting the workpiece concentric to the machine spindle. See centers.