October 01, 2011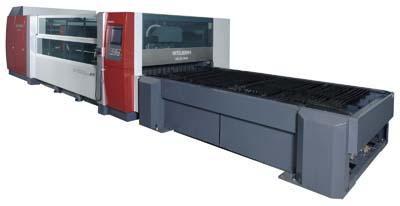 MC Machinery Systems Inc. says it has introduced its most productive and efficient 2D laser machine yet. Replacing former LVP series, eX is the fifth generation in a line of 2D Mitsubishi Lasers. The machine delivers low running costs and eco-friendly features for power and gas consumption, and stable operation for up to 1.4 times greater productivity.
The eco mode cuts running costs by up to 90 percent during standby. Carbon dioxide emissions are reduced by around 30 percent compared to competitor machines. The machine's new compact design provides a small footprint without reducing table size. Standard on the eX is its magnetic head, which protects from catastrophic crashes and allows for easy recovery.
A built-in control panel, window into the workpiece area and a barcode reader all make for easy operation. Other features include high-speed lens movement; a large work area; simple nesting with component thumbnails displayed on the screen; an email notification system; and a faster processing head. Mitsubishi's patented three-axis, cross-flow resonator design delivers the highest cutting power per watt available. Mitsubishi's simplified resonator design eliminates the need for expensive quartz tubes and turbine blower systems, optimizes cutting power and requires 2-5 times less maintenance than other laser equipment on the market.
"Our eX series combines ease of operability, faster cutting, upgradable automation, and eco-friendly, cost-saving features," says National Product Manager Jeff Hahn. "It's a smart choice for small job shops or high volume production facilities."
Related Glossary Terms
recovery


recovery

Reduction or removal of workhardening effects, without motion of large-angle grain boundaries.