October 13, 2012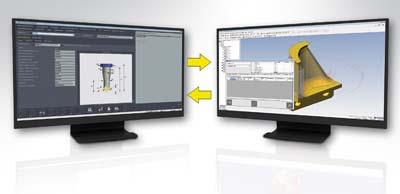 DP Technology Corp., creator of ESPRIT computer-aided-manufacturing software, and ZOLLER GmbH & Co. KG., provider of tool-measurement machines and solutions, introduced the new ESPRIT-ZOLLER Interface for ZOLLER TMS Tool Management Solutions.
Designed for ease of use in data transfer between the ZOLLER TMS Tool Management Solutions database and ESPRIT CAM system, this new add-in makes it easy to create and manage tools. Utilizing the combined power of ESPRIT and ZOLLER, programmers are now able to access ZOLLER TMS Tool Management Solutions to search for, create, manage and store tools to be loaded directly into ESPRIT from a central database that provides a clear overview of available tooling.
"The new interface between ESPRIT and ZOLLER provides the CAM user simple and fast access to tool data for the tools available on the production floor," said CEO Christoph Zoller of ZOLLER GmbH & Co. KG. "This results in a great reduction in programming time and tool preparation, and is an excellent solution and connection between the CAM program and tool management."
After programming is complete, the resulting tool list is transferred from ESPRIT to the ZOLLER database — where the tool list is available as a setup sheet in both the ZOLLER system and ZOLLER measuring machine.
"All of the cutting tool data available in the ZOLLER TMS Tool Management Solutions system is now readily available to the ESPRIT CAM programmer through this new ESPRIT-ZOLLER interface," said Chuck Mathews, executive vice president of DP Technology Corp. "Having this data available to the programmer eliminates the need to manually enter tool data into the CAM system, thereby reducing programming time and increasing the accuracy and consistency of the resulting part programs. We are excited to offer this new product to our ESPRIT customers and we expect they will see compelling, quantifiable benefits from using ZOLLER TMS Tool Management Solutions alongside ESPRIT."
Related Glossary Terms
chuck


chuck

Workholding device that affixes to a mill, lathe or drill-press spindle. It holds a tool or workpiece by one end, allowing it to be rotated. May also be fitted to the machine table to hold a workpiece. Two or more adjustable jaws actually hold the tool or part. May be actuated manually, pneumatically, hydraulically or electrically. See collet.

computer-aided manufacturing ( CAM)


computer-aided manufacturing ( CAM)

Use of computers to control machining and manufacturing processes.