September 18, 2017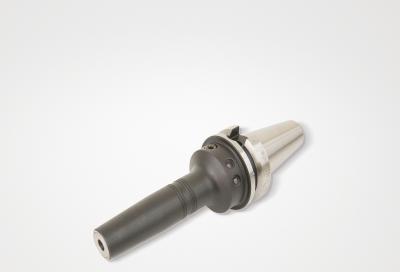 Seco continues to evolve and develop tooling solutions for the metalcutting industry. Two of the company's latest examples of that are its EPB 5831 slim hydraulic chucks (pictured) and ER-to-Combimaster holders.
The new EPB 5831 chucks expand Seco's line of hydraulic chucks. Featuring slender profiles, the chucks allow shops to easily perform semifinishing and finishing operations in confined spaces such as deep, narrow mold cavities. In addition to their slim designs, the chucks are available in long projection lengths of 150 mm and 200 mm.
With the turn of one pressurized screw, the high-pressure hydraulic chucks uniformly grip small-diameter cutting tools. Such secure clamping ensures extreme precision and high repeatability along with runout of less than 5 µm at 3xD for fine surface finishes.
The EPB 5831 accommodates 6-mm, 8-mm, 10-mm and 12-mm tool diameters, and with the use of reduction sleeves, the chuck holds various shank types and diameters. With a reduction sleeve for instance, the 12-mm hydraulic chuck can hold 3-mm, 4-mm, 5-mm, 6-mm, 8-mm and 10-mm tools. The chucks are available in HSK-A63, HSK-A100, BT 40 and Seco-Capto C5 machine side connections.
Seco's new ER-to-Combimaster holders bring ease of use, stability and unlimited possibilities to multitask machines, according to the company. This system combines ER taper, ER clamping nuts and a ball bearing interface, all of which provides unmatched tool positioning and secure tightening during setup.
Highly adaptable, the ER-to-Combimaster tooling system performs face, side and disc milling operations via insert-based milling cutters, as opposed to solid endmills. This allows for higher material-removal rates due to larger cutting diameter capacities. Plus, the system's compact design with short overhangs saves space in the machining area for improved safety and reliability.
Combimaster is available in three ER sizes – 25, 32 and 40 – and five different Combimaster thread-size connections ranging from M8 to M20. The system supports a range of interchangeable milling cutter heads, especially those in Seco's Turbo line.