September 01, 2010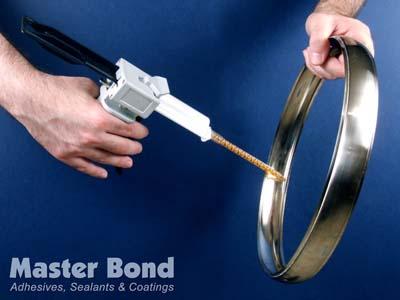 Master Bond Inc. EP65HT-1 combines high temperature resistance and fast room temperature curing in a NASA low outgassing approved epoxy. It also offers superior electrical insulation capabilities and strong chemical resistance.
With an extremely high glass transition temperature exceeding 125 degrees C, EP65HT-1 features fast cure times, even when mixed in small masses. For example, a 10-20 gram mass will cure in 3-5 minutes at room temperature. It is serviceable over the wide temperature range of -60°F to +400°F, has a tensile shear strength approaching 3,000 psi, and a Shore D hardness greater than 75.
EP65HT-1 bonds well to a wide range of substrates including metals, glass, ceramics, rubbers, and many plastics, and is widely used in the electrical, electronic, computer, medical, optical, transportation, aerospace, and OEM industries. The adhesive is dark brown in color and is available in a convenient dispensing gun that mixes the parts with a 10:1 ratio. It is also available for use in half pint, pint, quart, gallon, and 5-gallon container kits.
Related Glossary Terms
ceramics


ceramics

Cutting tool materials based on aluminum oxide and silicon nitride. Ceramic tools can withstand higher cutting speeds than cemented carbide tools when machining hardened steels, cast irons and high-temperature alloys.

hardness


hardness

Hardness is a measure of the resistance of a material to surface indentation or abrasion. There is no absolute scale for hardness. In order to express hardness quantitatively, each type of test has its own scale, which defines hardness. Indentation hardness obtained through static methods is measured by Brinell, Rockwell, Vickers and Knoop tests. Hardness without indentation is measured by a dynamic method, known as the Scleroscope test.

shear strength


shear strength

Stress required to produce fracture in the plane of cross section, the conditions of loading being such that the directions of force and of resistance are parallel and opposite although their paths are offset a specified minimum amount. The maximum load divided by the original cross-sectional area of a section separated by shear.