August 01, 2015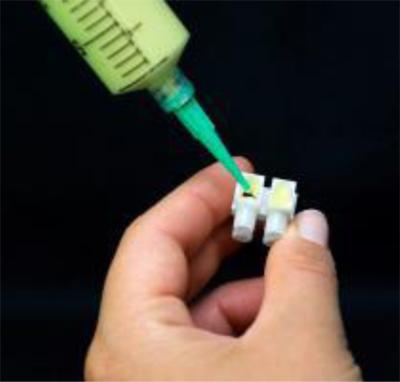 Developed for a variety of bonding, sealing, potting and encapsulation applications, Master Bond EP3RR-80 is a one component epoxy that offers user friendly handling. It has a moderate viscosity, good flow properties and an unlimited working life at ambient temperatures. Additionally, this system can be stored at 40-50°F and does not require freezing.
Unlike typical one part epoxies, EP3RR-80 will cure in 45-50 minutes at 80°C (175°F), or in 25-30 minutes at 250°F. It features low exotherm while curing enabling it to cure in thicker sections up to and beyond a ½ inch deep. This dimensionally stable compound forms high strength bonds to metals, composites, ceramics, glass and many plastics.
EP3RR-80 has superb electrical insulation characteristics and delivers a thermal conductivity of 5-6 BTU·in/(ft²•hr•°F) [0.72-0.87 W/(m•K)] at 75°F. Resistance to water, oils, fuels and many other chemicals is outstanding. Service operating temperature range is -100°F to +350°F.
This compound is widely employed in the electronic, aerospace, specialty OEM and related industries. It is available for use in syringes as well as standard containers ranging from ½ pints to gallons.
Related Glossary Terms
ceramics


ceramics

Cutting tool materials based on aluminum oxide and silicon nitride. Ceramic tools can withstand higher cutting speeds than cemented carbide tools when machining hardened steels, cast irons and high-temperature alloys.

composites


composites

Materials composed of different elements, with one element normally embedded in another, held together by a compatible binder.