July 01, 2015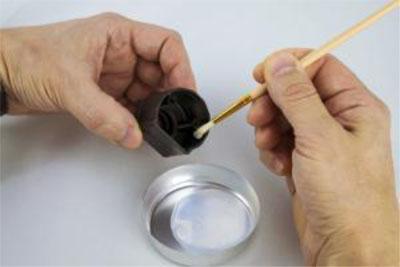 Used for applications in the aerospace, electronic and OEM industries, Master Bond EP121CL-LO is a high performance epoxy that passes ASTM E595 testing for NASA low outgassing specifications. This two component system has a low mixed viscosity of 1,000-3,000 cps with a mix ratio of 100:80 by weight. It features an exceptionally long open time of at least 2-3 days at room temperature in a 100 gram batch and requires oven curing.
EP121CL-LO adheres well to many substrates including metals, composites, glass, ceramics, rubbers and most plastics. It offers a high tensile strength, tensile modulus and compressive strength of over 12,000 psi, 450,000 psi and 15,000 psi, respectively. This epoxy resists a variety of chemicals such as water, oils, acids, bases, fuels and many solvents. It has impressive optical clarity with a refractive index of 1.56.
With a volume resistivity exceeding 3x1014 ohm-cm at ambient temperatures, this electrical insulator is used for potting, encapsulation, coating and sealing applications. When used as a coating, EP121CL-LO can be conveniently applied with a spatula, knife, trowel, brush, paint roller, etc. This product has a service temperature range of -80°F to +500°F. EP121CL-LO features a shelf life of a year in its original, unopened containers and is available in kits ranging from ½ pints to 5 gallons.
Related Glossary Terms
ceramics


ceramics

Cutting tool materials based on aluminum oxide and silicon nitride. Ceramic tools can withstand higher cutting speeds than cemented carbide tools when machining hardened steels, cast irons and high-temperature alloys.

composites


composites

Materials composed of different elements, with one element normally embedded in another, held together by a compatible binder.

tensile strength


tensile strength

In tensile testing, the ratio of maximum load to original cross-sectional area. Also called ultimate strength. Compare with yield strength.