October 02,2017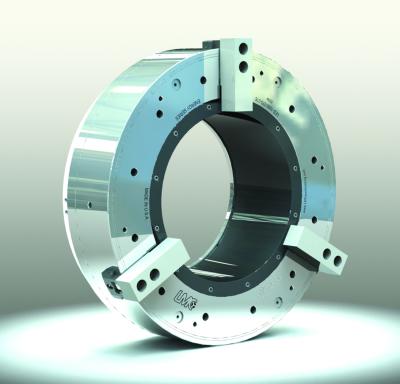 LMC Workholding offers the Energy series large-bore air chucks, featuring a built-in air cylinder and extra-large through-hole. The full spindle bore of the lathe can be utilized for through-hole work and long jaw travels provides more clearance for through feeding pipe. These large pneumatic chucks are available in standard and extended jaw-stroke models.
Other features include self-contained construction that allows these chucks to be installed on the front and back of the lathe spindle for producing high quality threads. Extended jaw stroke for processing pipe with upset ends and extended jaw travel features both a rapid and a clamping stroke. External or internal clamping of the workpiece is also possible.
Related Glossary Terms
clearance


clearance

Space provided behind a tool's land or relief to prevent rubbing and subsequent premature deterioration of the tool. See land; relief.

lathe


lathe

Turning machine capable of sawing, milling, grinding, gear-cutting, drilling, reaming, boring, threading, facing, chamfering, grooving, knurling, spinning, parting, necking, taper-cutting, and cam- and eccentric-cutting, as well as step- and straight-turning. Comes in a variety of forms, ranging from manual to semiautomatic to fully automatic, with major types being engine lathes, turning and contouring lathes, turret lathes and numerical-control lathes. The engine lathe consists of a headstock and spindle, tailstock, bed, carriage (complete with apron) and cross slides. Features include gear- (speed) and feed-selector levers, toolpost, compound rest, lead screw and reversing lead screw, threading dial and rapid-traverse lever. Special lathe types include through-the-spindle, camshaft and crankshaft, brake drum and rotor, spinning and gun-barrel machines. Toolroom and bench lathes are used for precision work; the former for tool-and-die work and similar tasks, the latter for small workpieces (instruments, watches), normally without a power feed. Models are typically designated according to their "swing," or the largest-diameter workpiece that can be rotated; bed length, or the distance between centers; and horsepower generated. See turning machine.

through-hole


through-hole

Hole or cavity cut in a solid shape that connects with other holes or extends all the way through the workpiece.