January 02, 2019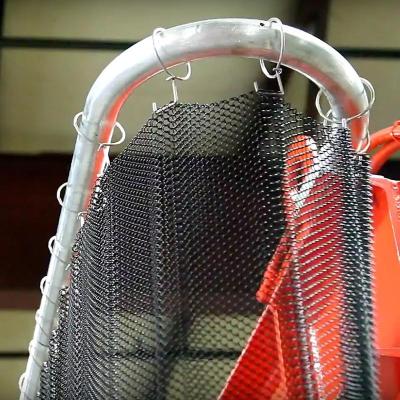 The amount of pressure exerted by a typical hydraulic press can exceed 3,000 psi. Because of this tremendous force, high-velocity debris or shrapnel can be ejected from the press during normal operation, resulting in serious and even fatal injuries to the machinist or bystanders. With the new Rockford Systems Ejection Curtain Guarding Kit, machinists will feel confident knowing they are able to achieve efficient hydraulic press use while being protected by a coiled wire fabric guard that significantly reduces the risk of cuts, lacerations and punctures from flying debris. Upon contact, the coiled wire curtain wraps around the flying debris and drops it onto the floor, preventing it from leaving the work area or ricocheting back toward the machine operator.

Shipped as a complete, simple-to-install system, the Rockford Systems Ejection Curtain Guarding Kit increases protection in fast-paced manufacturing and fabrication environments where safety is a priority. The lightweight mesh is easy to open for loading and inspecting a part, as well as to close and secure during press operation to prevent accessing the hazardous area. The curtain is made of a 1/4-inch weave 19-gauge steel coiled wire fabric that has proven strong enough to contain a 600 lbs explosion in a live blast scenario. Besides being fireproof and corrosion-resistance, the mesh allows natural light visibility so the operator's eyes can easily focus on the point of operation, enhancing safety and productivity.

Along with its many other advantages, the Rockford Systems Ejection Curtain Guarding Kit provides a lower cost method of meeting hydraulic press guarding standards (ANSI ANSI B11.2 ref 8.2.1.). It is available in three standard sizes (40.5", 42.75" and 51"), as well as custom sizes, to fit standard hydraulic presses and H presses specifically.