January 30, 2020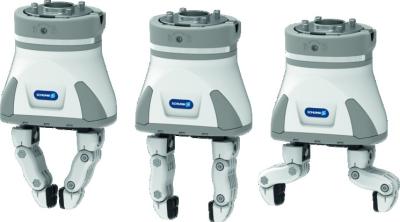 Introduced as part of SCHUNK's Plug and Work portfolio, the new EGH Co-act gripper is an effective way to easily implement automation with a cobot. Easy to install and control and fully programmable to ensure flexible workpiece handling, the EGH is particularly suited to the handling, assembly and electronics industries.
The EGH Co-act gripper is suitable for all applications in cells with a protective fence or for applications where there is no direct overlap between human and robot workspaces (coexistence). Typical fields of application are handling and pick and place tasks in clean and slightly dirty environments such as in the automotive and electrical industries, or in metalcutting companies. The EGH Co-act gripper in size 80 is standard, and can handle parts of up to 0.5 kg at a dead weight of around 1 kg force-fit gripping. Up to 3 kg form-fit clamping is possible.
Additional features include:
Integrated status display for visualizing the current operational status on eye level
Control via IO-Link allows for pre-positioning of gripper fingers and evaluation of gripper condition
Gripper movement with parallel kinematics for constant gripping force during the entire stroke
Easily accessible quick-release assembly lock for simple and quick mounting to the lightweight robot
Optional flexible gripper fingers to improve flexibility and range of usage of the gripper

Starter kits are available for quick and easy installation.
Related Glossary Terms
metalcutting ( material cutting)


metalcutting ( material cutting)

Any machining process used to part metal or other material or give a workpiece a new configuration. Conventionally applies to machining operations in which a cutting tool mechanically removes material in the form of chips; applies to any process in which metal or material is removed to create new shapes. See metalforming.

parallel


parallel

Strip or block of precision-ground stock used to elevate a workpiece, while keeping it parallel to the worktable, to prevent cutter/table contact.