March 08,2016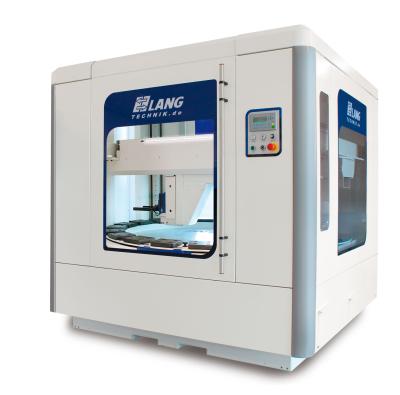 Lang Technovation Inc. has introduced its new ECO Compact 20 space-saving and simple automation system.
The ECO Compact 20 is reportedly designed for complete ease of use and flexibility within a production shop.
It is ideal for use with vertical machining centers, housing 20 pallets in a 2m x 2m footprint, saving valuable manufacturing space without sacrificing capacity.

The system is shipped as a pre-adjusted, ready-to use-unit and functions on only two M codes, which allow for fast and simple installation. The unit is easily adjustable featuring a long loading arm with a travel capability up to 1,200mm.

The ECO Compact 20 is extremely flexible and simple to maneuver, which makes it easy to redeploy throughout the manufacturing facility by forklift.

It can be configured with the loading door on the front or side. The loading arm can be offset at 9 degrees or 18 degrees for hard-to-reach tables. Linear guides and rails are available to ensure accessibility. The company also offers different colors to match the machining center at no extra charge.
Related Glossary Terms
centers


centers

Cone-shaped pins that support a workpiece by one or two ends during machining. The centers fit into holes drilled in the workpiece ends. Centers that turn with the workpiece are called "live" centers; those that do not are called "dead" centers.

machining center


machining center

CNC machine tool capable of drilling, reaming, tapping, milling and boring. Normally comes with an automatic toolchanger. See automatic toolchanger.