September 16, 2021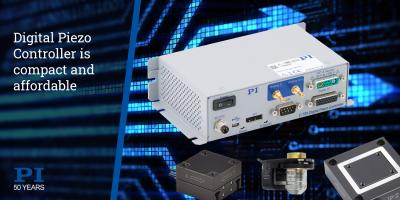 Based on 5 decades of piezo driver and motion controller expertise, PI's digital piezo controller family grows again with the next generation E-709 closed-loop piezo controller and integrated driver, well suited for applications that require high performance motion with nanometer precision such as found in semiconductor surface metrology, autofocus systems, medical apparatus, laser-beam steering, 3D imaging, and multiphoton and confocal microscopy.
Digital Controller with Fast Focus and Freeze, Automated Scans, Software Support
The new E-709 compact digital piezo servo controller / amplifier and driver was designed providing 20kHz sampling rate, twice the power of its predecessor along with multiple times is positioning resolution. When used in image processing, scanning and microscopy applications, its advanced features such as high-performance linearization, high speed tracking, and PI's unique F3 capability (Fast Focus & Freeze) come in handy. When used with a fast objective focusing motor such as the P-725, the autofocus drive can be bumplessly switched from an external (focus) sensor to the integrated position sensor inside the focusing stage. This feature allows for calibrated, precise, and highly stable motions on a nanometer scale, with respect to the focal plane.
Software – Digital vs. Analog Closed-Loop Piezo Controllers
The new E-709 compact digital piezo controller is supported by a comprehensive software package including drivers for LabVIEW, dynamic libraries for Windows and Linux, MATLAB, MetaMorph, µManager, etc. Despite all servo operations inside the controller are of digital nature, an additional analog control interface with high resolution A/D converters is included for ease of use with existing analog signals. Digital interfaces include USB, SPI, RS-232. Supported functions include Wave generator, data recorder, auto zero, and trigger I/O.
How to Find the Right Piezo Controller?
Several application parameters should be considered when selecting the right closed-loop piezo controller for a specific nanopositioning or high-speed precision motion task. Examples are:
Maximum required stroke / amplitude
Signal type (sinusoidal, triangular, trapezoidal, steps, …)
Frequency / duty cycle of the drive signal
Rise / fall time of steps
Operation time (Continuous 24/7, a few minutes or seconds at a time, …)
Safety Monitoring, Temperature Management
Short-circuit proof, the E-709 provides safety and monitoring functionality with continuous input/output measurements as well as internal temperature. The driver is adaptable to a wide variety of operating conditions and temperature stable within 10 minutes of powering on.
Related Glossary Terms
metrology


metrology

Science of measurement; the principles on which precision machining, quality control and inspection are based. See precision machining, measurement.