May 01, 2015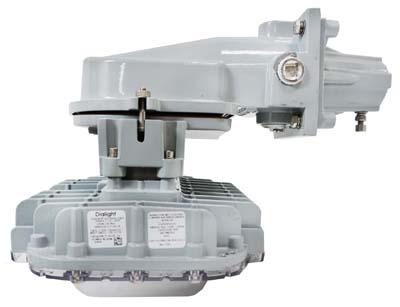 Dialight announced the launch of it's next-generation DuroSite LED Conveyor Light. The fitting is designed specifically to eliminate lighting maintenance in the harsh environment of mining applications, where maintenance of thousands of light fittings installed on kilometres of conveyors and walkways across vast sites is an expensive and ongoing burden.
Carrying a five-year full-performance warranty the CE-compliant Dialight LED Conveyor Light is L70 rated for >100,000 hours representing minimal lumen depreciation over the life of the fitting. This rating far exceeds many other similar LED solutions and outperforms conventional sources by up to a factor of ten. Its robust construction can withstand the constant shock and vibration of the mining environment, unlike HID fittings that need frequent maintenance and replacement. The IP66 sealed unit is resistant to water and dirt ingress, optimising the longevity of the product. With its clever mechanical design, installation is quick and simple with ingress protection being uncompromised during the installation process.
Designed from the ground up to accommodate Dialight's proprietary long-throw optics, the compact, low-maintenance DuroSite LED Conveyor Light incorporates wide-angle optics that enable optimised light spread whilst avoiding light spill and glare. The 60W fitting provides superior colour rendering, with a CRI of 70 and CCT at 6,000K, delivering a cool white light for improved visibility and clarity compared to conventional high-pressure sodium or mercury vapour.
The DuroSite LED Conveyor Light operates in ambient temperatures from -40°C to 65°C, exceeding the upper temperature range of any rival, making it suitable for use in extreme environments. Mining installations can also benefit from its instant-on ability, eliminating the lengthy re-strike delays that are common with HID lighting systems.